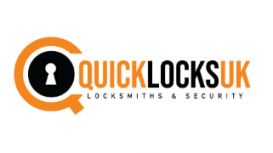 Hello my name is Shaun and I am the owner of Quick Locks UK, we are a local independent family run 24/7 locksmith and security company. We are unique in this field due to the fact I am not only fully qualified City & Guild's locksmith, but also a fully qualified joiner and CCTV engineer. I have a vast array of experience to complete your locksmith, uPVC maintenance and security work as I started in 1984. I can also give you expert advice on your home or business security to ensure you and your property are fully protected.
Many companies you see advertised on Google imply they are local, but in most cases, they are national companies employing contract locksmiths who may not even be qualified. They pay Google to be at the top of the listing to trick you into thinking they are local. The two main problems here for you the customer is first you will be paying much higher prices to cover the advertising, call centre & staff, the contractor and then profit for the company, the second problem is the locksmith may have very little experience and if you need him back for any reason he probably won't be about as these companies have a high turnover of staff.
---
Business Verification Status
Reviews and Ratings
We do not have any reviews about Quick Locks UK available right now.